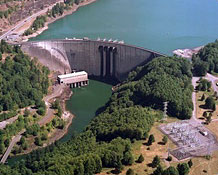 Tacoma Power's largest electricity generating facility is the Cowlitz River Project. It produces enough renewable hydroelectric energy to serve more than 135,000 Northwest homes. The Cowlitz River Project produces hydroelectric power from the water stored behind Mayfield and Mossyrock dams.
Tacoma Power's Mossyrock Dam, completed in 1968, stands 606 feet from bedrock and is Washington's tallest dam. It produces enough electricity to serve more than 78,000 Northwest homes. This double curvature concrete arch dam has three penstocks between 248 to 285 feet in length that extend down to the powerhouse, which is adjacent to the base of the dam.
The powerhouse contains two turbine generators and has room for a third. Tacoma Power has tackled the huge job of replacing both of the existing turbine generators.
View larger map
Recreational Resources
Boat Launch Area
Boat Ramp
Camping Area
Fishing Pier
Food Services
Interpretive Display
Organizational, Groups
Overlook
Park
Picnic Area
Playground Area
Swimming Area
Visitor Center