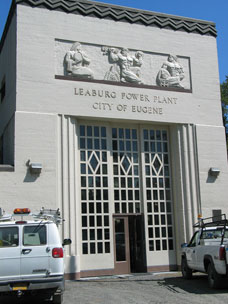 The Leaburg-Walterville Hydroelectric Project is comprised of two facilities located at different points on the McKenzie River. Both plants are run-of-the-river facilities, meaning that the natural flow and elevation drop of the river are used to generate electricity.
The Leaburg facility has a capacity of 16.7 megawatts. The Walterville plant has a capacity of 8 megawatts.
The project is operated as an integrated system. The intake gates are operated to capture up to the maximum water right (2,577 cubic feet per second) from available river flow, provided that licensed minimum flows are left in the river downstream of the intake. Canal and downstream river elevations are monitored electronically with alarms and remote monitoring capabilities at the Walterville powerhouse. The turbine-generator automatically adjusts load for available flows to maintain a constant level.
View larger map
Recreational Resources