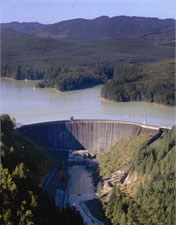 Tacoma Power began generating electricity from the water of the Nisqually River nearly 100 years ago. The original diversion dam, completed in 1912, was replaced in 1945 with Alder Dam and LaGrande Dam. The Nisqually River Project is Tacoma Power's second-largest hydroelectric resource, generating enough power to serve nearly 43,000 Northwest homes.
When Alder Dam was completed in 1945, it was one of the tallest dams in the nation, measuring 330 feet high and 1,600 feet long. The powerhouse has two 25,000-kilowatt turbine generators that produce enough electricity to serve 16,000 Northwest homes each year.
Alder Dam forms seven-mile-long Alder Lake. With 28 miles of shoreline and 3,065 acres of reservoir area at maximum elevation, Alder Lake is an inviting spot for boaters, water skiers, anglers and picnickers.
View larger map
Recreational Resources
Boat Launch Area
Boat Ramp
Camping Area
Park
Picnic Area
Playground Area
Swimming Area
Tent, Trailer Sites