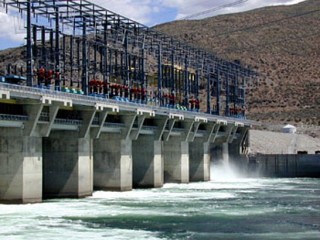 The Wells Hydroelectric Project is owned by Public Utility District No.1 of Douglas County. Located in Azwell, WA, the Wells Project is unique in its design of combining the powerhouse, spillway, switchyard and fish facilities in a single structure rather than separate structures as used in conventional designs. This design by Bechtel Corporation of San Francisco saved the District millions of dollars and the project was completed one year ahead of schedule. The hydrocombine structure is 1165 feet in length and the dam is 4460 feet long overall. Ten generating units produce 840 megawatts of power and eleven gated spillway openings can pass a flood of over 8,800,000 gallons of water a second.
Wells Dam produced its first commercial generation on August 22, 1967 with a construction cost of $202 million. In 1990, the District completed installation of modern high efficiency replacement turbine runners on all ten units. One of the original 150 ton runners can be seen on display at the dam.
Utilities receiving power from Wells Dam include: Public Utility District No.1 of Douglas County, Public Utility District of Okanogan County, Puget Sound Power & Light, Portland General Electric Company, PacifiCorp, and Avista Corporation.
View larger map
Recreational Resources
Access Area
Boat Launch Area
Boat Ramp
Camping Area
Fishing Pier
Golf Course
Hunting Area
Interpretive Display
Marina
Overlook
Park
Picnic Area
Swimming Area
Tent, Trailer Sites
Trails
Visitor Center
Whitewater Boating
Wildlife Area