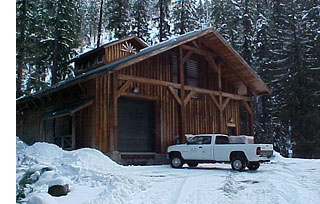 The project lies between Portland General Electric's (PGE) Timothy Lake and PGE's Oak Grove Hydroelectric Project. Water is diverted from the Oak Grove Fork of the Clackamas River just downstream from its junction with Stone Creek, which is about one mile downstream from Timothy Lake. It's considered a run-of-the-river project capable of producing 12 megawatts peak, with an average production of 8 megawatts.
The Stone Creek Hydroelectric Project consists of the following facilities:
300-foot long, 12-foot high diversion dam and fish ladder
4.6-mile, 6-foot diameter steel penstock that carries water from the diversion dam to the power plant
A power plant that contains one vertical shaft Pelton turbine driving a synchronous generator rated at 12 megawatts
A substation
A 17-mile 34.5 kilovolt (kV) transmission line, half of which is underground and the remainder overhead. The transmission line terminates at PGE's Harriet Substation.
The power generated at Stone Creek is wheeled through PGE and Bonneville Power Administration transmission lines to EWEB.
View larger map