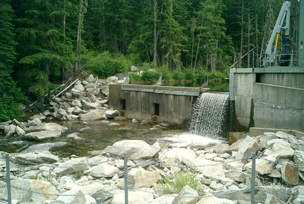 The Smith Creek Hydroelectric Project was constructed in 1989. In 2001 EWEB bought the project from the developer. Located on Smith Creek, a tributary to the Kootenai River, it is approximately five miles from the Canadian board in Northern Idaho.
The project is sometimes referred to as "Smith Falls," due to natural 60-foot high falls on Smith Creek, located downstream of the power plant tailrace. The falls serves as a natural barrier to White Sturgeon, an endangered species in the Kootenai River.
The project consists of the following:
75-foot long, 8-foot high diversion dam, fish ladder and screened intake to the penstock housed inside a steel building
5.3-mile, 6-foot diameter steel penstock that carries water from the diversion dam to the power plant
Power plant that contains two horizontal shaft Pelton turbines, each driving a synchronous generator rated at 18 megawatts and a third horizontal shaft Pelton turbine, driving a synchronous generator rated at 2.1 megawatts
A substation
30-mile, 115-kilovolt transmission line that terminates at the Bonneville Power Administration's Bonner's Ferry Substation.