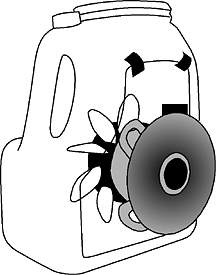 Master Kit includes everything needed to complete one hydropower model, including multimeter, glue gun with glue sticks, and alligator wire clips. Also includes DVD with assembly video and print documents.
$90.00
Shipping: $20.00
Make Your Own Hydropower provides students with a hands-on exploration of generating electricity with water power. This is a thematic unit geared toward seventh through ninth grade students.
By constructing the model successfully, students will learn and demonstrate the principles of generating electricity. As they explore the role of hydropower, the source for over 60% of electrical generation in the Northwest and 10% nationally, students can also consider other sources of electrical generation. Which of these sources, like hydropower, is renewable? Which are growing sources of generation? Where might future sources of electrical generation come from?