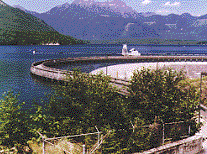 One of the first major dams in the Pacific Northwest was Tacoma Power's Cushman Dam No. 1, dedicated in 1926, when President Calvin Coolidge pressed a button in the White House to energize the project. The dam is on the North Fork of the Skokomish River near Hood Canal. It is 275 feet high and 1,111 feet long. Lake Cushman has a 23-mile shoreline.
Electricity moves from the Cushman Hydro Project to Tacoma on a 40-mile-long transmission line. Construction of the Tacoma Narrows transmission line crossing was a notable engineering achievement of the time. Stretching more than a mile and a quarter between towers in Tacoma and Gig Harbor, the power lines were the longest single span in the world.
On Jan. 12, 2009, Tacoma Power, the Skokomish Tribe and state and federal agencies signed a settlement agreement that resolves a $5.8 billion damages claim and long-standing disputes over the terms of a long-term license for Cushman Hydroelectric Project.
View larger map
Recreational Resources
Boat Launch Area
Boat Ramp
Camping Area
Cottages, Cabins
Fishing Pier
Food Services
Marina
Organizational, Groups
Overlook
Park
Picnic Area
Playground Area
Tent, Trailer Sites
Trails
Wildlife Area