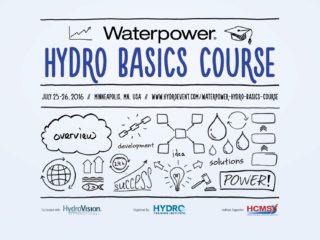 What better place for new hires and experienced professionals moving into the hydropower industry to learn "the business" than at the world's largest hydro conference?
The Waterpower Hydro Basics Course is taking place July 25 – 26 at the HydroVision Conference in Minneapolis, Minnesota. The full conference is July 26-29 at the Minneapolis Convention Center. Click here for detailed course information and registration.
This intensive, highly practical course is designed specifically for people new to hydro to quickly gain the industry background they need, and to help persons with limited hydro experience expand their knowledge.
Taught by industry experts from hydropower producers across the country, course work immerses participants in all aspects of the industry. For instance, the physics of waterpower, the basics of electricity and distribution, plant operations, environmental stewardship, navigating the regulatory environment, and communicating hydro's value.
Randy Stearnes, FWEE's Board President and Tacoma Public Utilities Community Relations Officer, has been a Hydro Basics Course instructor for several years. "The Hydro Basics lesson plans can help a person new to the hydro industry better understand the work done for the generation of electricity and the successful management of fish, wildlife and recreational resources," he said.